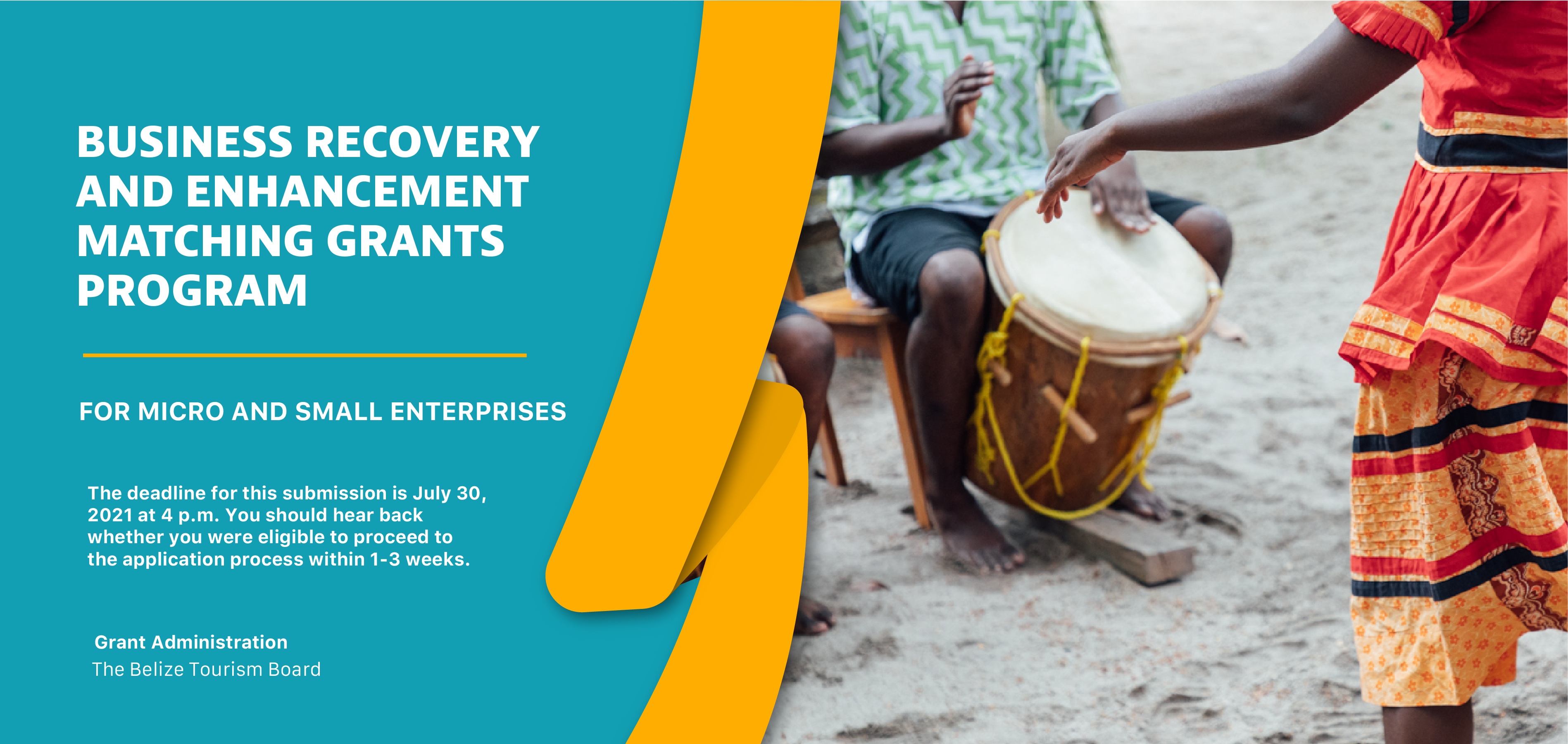 The Belize Tourism Board (BTB) has launched a Business Recovery and Enhancement Matching Grants program for micro and small businesses in the tourism industry. The Program aims to assist in revitalizing Belize's tourism sector in the micro and small enterprises; providing financial aid and support to accelerate the economic and social benefits to local people in a viable business model.
Interested in receiving funding for your project? All interested enterprises must first submit an Expression of Interest via an online Business Profile.
Who can submit an Expression of Interest?
Entities which serve a valuable role in quick industry recovery efforts
Entities with no greater than 5 employees.
Priority will be given to projects with annual revenue less than $250,000.00 BZD.
Priority will be given to entities playing a key role in quick industry recovery efforts led by BTB including but not limited to Cruise Tourism reopening, and Gold Standard certification;
 Why should you submit an EOI?
If your entity is deemed eligible, you will proceed to Phase 2, which involves applying for the grant.
The Matching Grants Program aims to support strategic tourism projects by assisting these businesses.
The grants will include a particular focus on tourism health and safety protocols which is a strategy being implored by all major tourism economies and businesses. This is to adjust to "the new norm" in a post-covid era.
Priority will be given to:


Am I eligible to submit an EOI?
Applicants must support business recovery initiatives due to COVID-19 and/or implementation of health and safety protocols to adjust these small businesses to the new post-COVID-19 norm.
Applicants must be Belize citizens or legally established permanent residents who are owners of tourism small businesses, including artisans and other individuals are eligible.
Applicants must be Belizean Citizens, legally established permanent residents, a registered business or registered community groups of no more than 5 members.
Assistance to further development in Orange Walk (Holpatin Corridor), Southeast Coast (Dangriga, Hopkins & Placencia) and other emerging destinations as defined by the Ministry of Tourism and Diaspora's Sustainable Tourism Program II. These areas include Corozal District, Toledo District, Mountain Pine Ridge (Caracol and Chiquibul) and Caye Caulker.
How to submit an EOI?
Interested entities must submit an online "Expression of Interest" form by completing and submitting the Business Profile (you can find it below). To submit a Business Profile, you must have read and agreed to all Guidelines and conditions.
When Can I apply?
The deadline for this submission is July 30, 2021 at 4 p.m. You should hear back whether you were eligible to proceed to the application process within 1-3 weeks.